SIOR Europe supported CUBE initiative shows UK office market could be saving 3 million tonnes of carbon annually.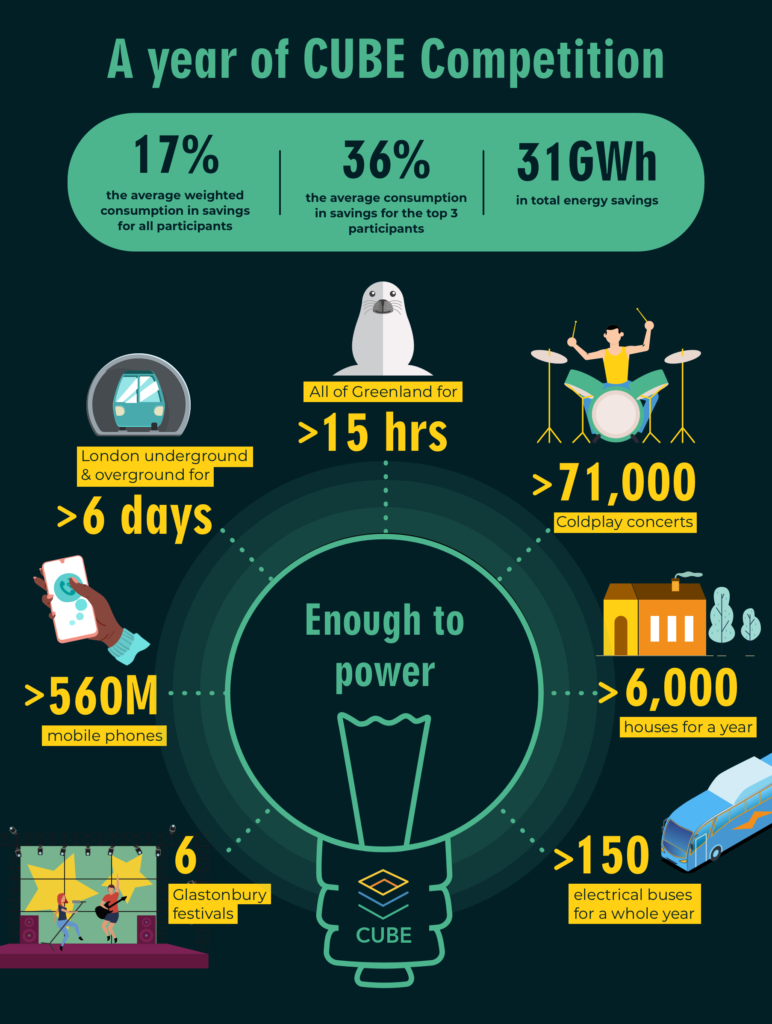 SIOR Europe pledged its support to CUBE over a year ago as it entered the UK office market for the first time. Well established in France, it is the first major initiative to use gamification to tackle energy wastage in commercial buildings and improve landlord and occupier engagement to deliver results. We pledged our support, endorsing it and helping to spread the word.
It announced its first year results in an award ceremony last night. Here are the highlights:
It has helped buildings reduce energy consumption by up to 39% - collectively enough to power 5,000 homes for a year
It has saved 6,087 tonnes of C02 across 540,895 sqm of commercial space
Participants have saved on average 17% of energy, equal to a tonne of C02 for every 88.86 sqm of office space
Financial savings amount to ~£8 million, or ~£1,300 per tonne of CO2
Featuring the likes of Landsec, Stanhope, Savills, and The Howard de Walden Estate, the competition has saved a total of 31GWh of energy
Using an innovative approach to bring landlords, building managers and occupiers together, CUBE has mobilised participants to reduce energy consumption through changing behaviour – the logical first step to net zero. The inaugural year of the competition featured 30 participating buildings, ranging from grade II listed buildings to iconic skyscrapers like the "Walkie-Talkie" and the "Cheesegrater". At its awards ceremony, hosted in partnership with Nuveen Real Estate and BNP Paribas Real Estate at 70 St Mary's Axe, it unveiled impressive total savings.
Applying these savings to the circa 860 million sq ft of office space across England, for example, the UK, a staggering £3.8bn a year in energy costs could be saved, not to mention nearly 3 million tonnes in carbon reduction.
At the event, awards were given for buildings in the Historical data category, where they were challenged to compete against their own past energy consumption. The winning building at 40 Holborn Viaduct, owned by Nuveen and managed by BNP Paribas Real Estate slashed 38.8% of its energy. The iconic 20 Fenchurch Street owned by H Properties and managed by Savills snagged second place ,while XLB's The Tootal Buildings managed by Ashdown Phillips came in third place.
Awards were also given in the AV league, which focuses on newly built or refurbished buildings, and which looks at absolute value, whereby building are given an absolute energy budget based on UK Green Building Council Office Energy Intensity Targets. The Frames owned by Workspace came out top, followed by RO's GNR8 and The Howard de Walden's Estate's head office at 23 Queen Anne Street.
With the first year of the competition concluding, the results produced some interesting findings. The expectation was that large buildings would do significantly better, but medium-sized buildings stole the spotlight saving 18% annually, compared to 12% for large sized buildings.
Another surprising result was the BREEAM-certified buildings still had a large capacity for energy savings, with a substantial average energy saving of 22%. In all, the average energy intensity of CUBE buildings before the competition was 262 kWh/m², but after the competition, this reduced considerably to 215 kWh/m². While significant, buildings across the UK will need to continue their efforts to meet UK Green Building Office Intensity Targets of 90 kWh/m2 by 2030.
Finally, CUBE can reveal that buildings in Manchester achieved outstanding energy savings, with an average of around 20%. One Victorian building in Manchester stands out by making a significant contribution to these impressive savings, highlighting the potential for energy-efficient transformations even in Grade II listed buildings.
Further key stats:
31 GWh in total energy savings

20 GWh in electricity, heating & cooling savings. Enough to power all of Greenland for 15 hours

11GWh in gas savings. Equivalent to providing gas for 950 homes for a year

540,895 sqm of commercial space involved
Around £15 in energy costs saved per sqm
Around 58 kWh in energy saved per sqm
17% - the average weighted consumption in savings for all participants
36% - the average consumption in savings for the top 3 participants
Matthew Leguen de Lacroix, Head of Business Development EMEA, said: "We knew how successful CUBE had been in France and so when we were asked to endorse a UK version of the competition, we didn't hesitate. SIOR is all about promoting best practice and driving the real estate sector to perform at the highest levels. We're delighted to see such brilliant results in just 12 months and hope this galvanises more landlords and occupiers to get involved in season two."
Mark Bruno, Chief Ambassador of CUBE, said: "Real estate contributes a disproportionate percentage of worldwide carbon emissions, but despite the industry's best efforts, the latest Savills research still indicated that 39% of global carbon emissions still come from the sector, with operational emissions alone accounting for 28%. Our goal was to galvanise the industry into taking stronger action, using the tried and tested tool of gamification. By encouraging participants to adopt the spirit of competition, they strive to reduce the carbon footprint of their commercial buildings, while also coming together to share experiences and successes. The competition's first year has delivered some impressive results, and we're delighted that so many big names from across the real estate world jumped at the opportunity."
The second season of CUBE is already in process with an ambition to show the collective impact of 100 buildings, old, new, refurbished or listed across the UK. If you think your workplace or that of someone you know should take part, get in touch with the CUBE team.