The SIOR Europe Diversity and Inclusion Committee held a webinar to mark International Women's Day, which this year has the theme of 'break the bias'. The inspirational discussion focused on championing women in real estate and finding positive ways to empower more women to join the industry and stay to build fulfilling careers.
Chaired by Andrea Carpenter, Director of Women Talk Real Estate, we welcomed an expert panel of women who shared their unique perspectives and experiences – Katie Whipp, head of Deepki, Sonja Beier, Counsel at DLA Piper, Nicola Mottershaw, Partner at Vail Williams, and Małgorzata Kalinowska – Klimek, VP Franchise Operation Poland & Eastern Europe at Accor.
The session kicked off with participants relaying what prompted them to enter the industry and find their own place within it. We heard how Nicola was encouraged to become a chartered surveyor by her father. She wanted variety, problem solving and transactional work, and occupier advisory ticked all the boxes. Małgorzata studied hospitality in Poland, being promoted over many years as she worked for numerous hotels. For Katie, it was not a conscious decision – her real estate journey stemmed from being open to opportunities she came across in London. Sonja, too, was not aware of the industry before her internship as a corporate lawyer, which led her to the real estate team.
They shared the changes they have seen for women in their part of the market. All agreed that there has been positive progress.
Nicola noted that, from 100 people on her college course only ten were women, so the pool of women from that generation of trainees is small. However, this has changed dramatically since
Katie, whose work in real estate encompasses ESG and technology, cited the stat that, out of 3m people employed in technology in the UK, only 26% are women – noting that the tech industry faces a similar challenge to improve gender diversity
At the intersection of law and real estate in Germany, Sonja sees positive development in both industries, which were male dominated when she began. At law firms there is a 50/50 gender split when recruits first join, but this thins out as positions become more senior
Małgorzata shared that the hospitality space is very diverse but agreed that, once you come to the highest level, there are fewer women. She mentioned some challenges women can face when it comes to promotion – they may be offered a bigger role in another city but this throws up difficulties in relocating children and families
Real estate remains an unknown profession for many. The perception is that it falls into two basic categories – builder or estate agent – with little realisation that there is a tremendous variety of roles in between. If we do not address this issue through accessibility and knowledge sharing, the risks are manifold – the sector would lose resilience, be unable to adapt to the future, and fail to attract and retain talent
There is wider recognition that women bring a huge amount of value. As the typical customer base becomes increasingly diverse, the industry must be equally diverse to meet changing requirements, innovate and create. It was mentioned that companies that are top for diversity are also proven to perform better financially
The younger generation of women is seeking purpose and cares about the bigger issues – our panel thought that highlighting the built environment's potential contribution to meeting global sustainability ambitions can help attract more women and engage young people in general
We then explored what is hindering more female participation and progress in real estate.
Panellists agreed that a series of issues is responsible, one of which is imposter syndrome, afflicting women who are not supported enough in an institutionally male culture. There was consensus that real estate should feel like a natural habitat for women rather than something to 'break into'. For new generations entering the workplace, gender balance is standard
On the back of the pandemic, more women are either stepping back in their careers or looking to leave the workforce completely due to the stress associated with managing domestic and work life. Katie referenced the UN, which warns that this could set us back in terms of gender progress by 25 years. Małgorzata also saw many talented female experts leave the hospitality industry. Nicola added that, while the pandemic ushered in more flexible working it also showed that, if there is domestic pressure too, women are the ones more likely to take a career break
We heard at length about the crucial importance of role models and mentoring in creating more robust support structures to help women thrive. Our panellists shared stories of how they benefited hugely from mentorship in their careers, and their current efforts to mentor others
We spoke about pressing issues such as maternity leave. Sonja noted that, in Germany, she is glad to see parental leave becoming more common, with men also starting to take leave
While we aim to attract more talented women, it is important not to push the bias the other way as many men work in the industry too – we should strive for diversity in its fullest sense
Looking ahead – the panel agreed that we must act to encourage more women into the industry. When asked what advice they would give their former selves and other women, responses ranged from remembering to celebrate achievements, to finding what you are most passionate about and not doubting yourself because it is not a traditionally female-dominated area. Recognise that you have a voice that matters, talk to people and seek the necessary support along the way.
Renata Osiecka, Managing Partner at AXI Immo Group, concluded the session by highlighting that, while it is uplifting to see more women in business and leadership positions, there is still room for improvement in encouraging young women to join the sector. We must lead by example and show that diversity is an asset that adds value to companies, the industry and society.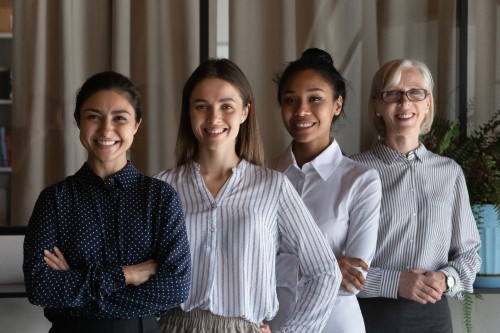 ---
To view the webinar online, visit our YouTube Channel here.