At Tuesday 23rd November's SIOR Europe webinar on climate change and sustainability, we welcomed a group of specialist participants representing a broad spectrum of disciplines within the real estate sector from across Europe.
What followed was an illuminating discussion – asking key questions on what needs to happen next for the built environment to deliver on the goals made at COP26, with our panellists sharing their unique perspectives, experiences and solutions to shape a way forward.
Introduced and hosted by Renata Osiecka, Managing Partner at AXI Immo Group, andexpertly moderated by Greg Borel, Founder & Director of Ampersand Partners and organiser of CUBE in the UK, we were joined by Laura Kelly – Director at PwC, Ann Marie Aguilar – SVP EMEA at International WELL Building Institute, Fabian Mühlen – Partner at DLA Piper, who spoke to us from Frankfurt, and Jennifer Taranto – Director of Sustainability at STO Building Group.
The workshop kicked off with the vital question. Given that one of the major takeaways from the recent COP26 climate summit was the need for immediate action rather than talking about commitments to sustainability, the webinar started with what needs to happen now? How do we translate the grand plans made at COP26 into tangible impact in the short-term?
Our participants agreed that collaboration is a huge focus. Net zero is transformative and companies acting by themselves are not enough to counteract the climate emergency – it requires change at policy as well as market level.
CUBE and WELL are two initiatives that deliver impact. The CUBE competition, run in the UK by Ampersand Partners after marked success elsewhere in Europe, focuses on the user experience and behavioural change to drive reduced energy consumption. It also feeds into closer collaboration and engagement between landlords and occupiers. WELL, meanwhile, highlights how human health and wellbeing is inextricably linked to the health of the planet – which means creating people-first places as a way to address environmental challenges. Offices seeking to encourage people to return must ensure inviting environments with characteristics such as air quality, access to natural light, provision of healthy food choices and more.
We heard about the increasing importance of the 'S' in ESG, and Ann Marie outlined how social impact is now influencing portfolio-wide decisions, and businesses that prioritise wellbeing see a stronger return on investment.
Panellists shared interesting insights on industry trends they are seeing:
Laura spoke of how some clients remain on the fence about climate issues, while others have put it at the heart of their operations. She noted that clients are growing aware that there is a commercial – not just moral – imperative to embedding sustainability credentials into their businesses. What will be the main drivers to get the late-comers to join the climate agenda? Policy and market dynamics will play a part. Companies are realising that, for their next round of fundraising or to achieve the next level of their expansion plans, they need to be ESG-compliant to attract investors.
Jennifer shared how her organisation is mirroring the same values as its clients. The pandemic, too, has been a huge disrupter and accelerated the climate discussion. In the construction sector, given that 11% of all greenhouse gasses come from building materials, they are looking at how to manage the impact of embodied carbon and transportation. Electrification is another major theme. With embodied carbon, concrete, metal and insulation of water proving big contributors, timber is becoming a key consideration in terms of the schemes STO is working on.
Fabian, who spoke from the point of view of not only a legal advisor but a corporate enterprise and a tenant, said that he's increasingly asked by clients about how to integrate ESG into real estate transactions and the due diligence that comes with that, plus the rising popularity of green leasing agreements, sustainable facilities management, and SPAs. He's seen an evolution in the past 15 years, from when ESG was barely on the radar to now becoming front and centre. Deals have moved away from singular agreements, to the transaction as a whole being ESG-compliant – it's a more holistic approach. He's also asked to analyse the social aspect of schemes, and governance in terms of AML, KYC, anti-corruption and the drive for greater transparency. DLA Piper is seeing a big trend for carbon-neutral or carbon-optimised funds and buildings, both for existing and new developments. These buildings will generate better demand and command higher prices.
Industry players are cognisant that, while ESG can bring financial pay-offs, it requires investment up-front. However, the longer-term value, for both the environment and for their exit scenario, is worth it. Tenants are also more enthusiastic about the sustainability agenda than five years ago.
Webinar participants noted that there is still a lingering risk of greenwashing with some, and agreed on the need to elevate the level of transparency and reporting. That involves more data and knowledge-sharing, to demonstrate the measurable effects of climate initiatives to others.
There was consensus that the route to effective industry-wide collaboration is early engagement and having those critical conversations from the outset, the design stage, thus setting the right foundation for construction and other latter phases of projects.
Apart from the big corporations embedding these measures, there is also considerable opportunity for small and medium entities, which are much more agile and can transform organisational culture more easily.
The session closed with the question of where is collaboration needed most? Answers ranged from co-operating with third party ESG frameworks and environmental ratings bodies, more R&D into electrification and other energy efficiencies in construction, setting mutual climate objectives with tenants, transparency with the market and peers, and leading by example with responsible procurement and client intake (i.e. working with those who demonstrate their commitment to climate and ESG factors).
The overarching conclusion? We all need to think beyond our own organisations, as the only way to deliver on the promise of COP26 is through collective endeavour.
You can see the full webinar here – 60 minute watch
SIOR Europe Workshop Climate Change & Sustainability, 23 Nov 2021. - YouTube
Exclusive visit to the UK's busiest postal sorting office, The Mount Pleasant Mail Centre in Clerkenwell has undergone major changes over the years and we are privileged to be allowed to visit.
SIOR Europe is pleased to invite you to an exclusive event in London, England on Thursday, 2nd December 2021, from 10.00 am to 3.00 pm.
Members and guests will meet at The Mount Pleasant Mail Centre (Clerkenwell) on Phoenix Place and have a private tour of this renovated site. In addition to work taking place on the sorting office itself, the planning permission includes developing part of the site with new homes, shops, offices, restaurants and public space.
All will then make their way to The In and Out Naval & Military Club (N° 4, St James's Square, London SW1Y 4JU) for drinks in the bar, preceding lunch.
During the private dining room experience over lunch, our guest speaker Bill Blain will share some of his thoughts, charm and charisma.

Bill Blain is a leading market commentator. He's spent 35 years in markets in fixed income and alternative assets, and produces a daily market commentary; the Morning Porridge, which has upset regulators, central bankers, politicians, companies and supranational institutions. Navigating the fine line between common sense and being rude, Bill's market insights are a must-read for over over 5000 direct recipients of the Porridge, and many more who read it syndicated.
There will be time to relax, network and develop business opportunities with SIOR colleagues and guests.
Registration is now open.
PLACES WILL BE LIMITED.
If you would like to invite a colleague in the industry that could be interested in SIOR membership, in keeping with our strategy to grow the European membership of designees, associate members and member associates, please contact events@sioreurope.com with the name, address, email and contact details of the invitee. SIOR Europe will cover the cost of each guest (free places are limited).
If you have any questions about this event, please contact events@sioreurope.com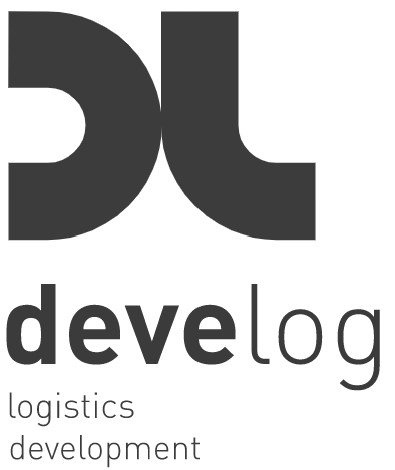 With thanks to Develog, our SIOR Europe Gold Sponsor.
The much-awaited Cities, Regions and Built Environment Day took place on 11 November, rounding off two intensive weeks of COP26 and highlighting the big role that the built environment – which is responsible for 40% of carbon emissions – can and must play in delivering on global net zero ambitions.
We were encouraged to see a number of notable take-aways, announcements and conversations emerging from the day's focus on our industry.
---
The SIOR Europe Chapter AGM will take place virtually on Zoom at 11am GMT and 12 noon CET on Friday, 28th January 2022.
Registration is necessary. Please email admin@sioreurope.com for further details.
More information about the event will be published in due course.
FOREWORD BY THE EUROPEAN CHAPTER PRESIDENT
As the second week of COP26 comes to a close and with a day dedicated to the built environment, we publish the second part of SIOR Europe's Members' and Industry Insights, this time focusing on the experiences of our members across the UK & Europe.
Our report provides insight into how different countries are responding, shares solutions that can be applied elsewhere and demonstrates how climate change is increasingly integrated into the transactional process as a means to add value.
---
FOREWORD BY THE EUROPEAN CHAPTER PRESIDENT
As COP26 gets underway, SIOR Europe is keen to join the conversation about the focus that the summit brings on
climate change impact to share commentary and advice from our members, all of whom support greater action in
the race to net zero.

Our members have put climate change impact at the heart of their consultancy in response to the market and clients'
increasing ESG requirements and have embedded it into every stage of the property process.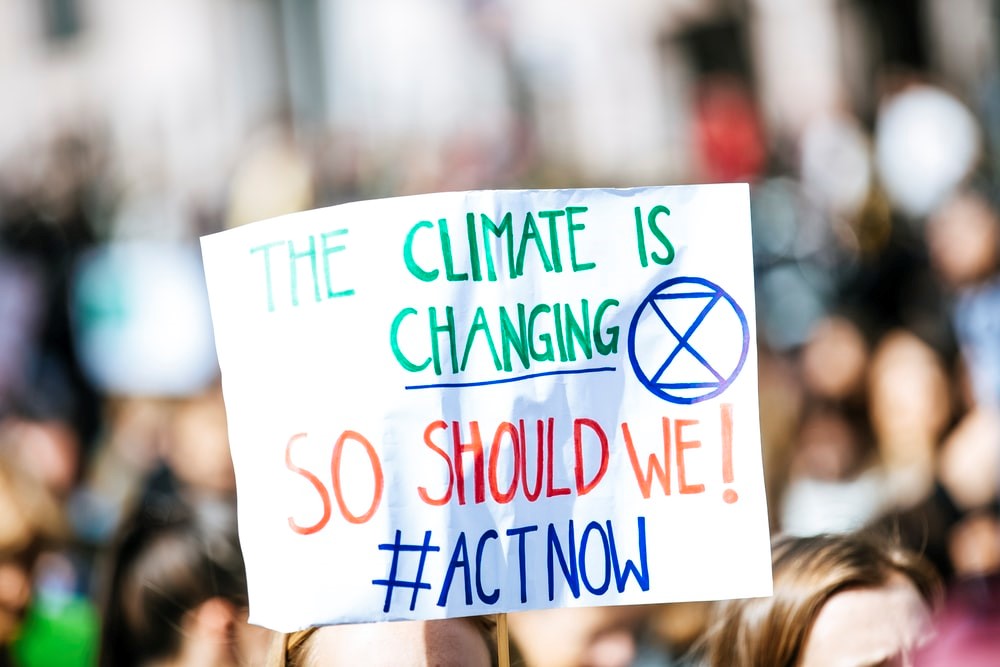 ---
Tuesday, 23rd November 2021, 18:00 CET, 17:00 GMT, 12 noon ET, 09:00 PT
With the built environment accounting for 40% of global carbon emissions, COP26 has brought into sharp focus the importance of swift and affirmative action by the real estate sector, in order to reduce its climate impact.
SIOR Europe is hosting this webinar, bringing together members and industry experts to discuss global climate issues, examine the outcomes of the COP26 summit and identify solutions for the industry.
More and more organisations in the commercial real estate market are aware of their impact on the environment and making business decisions in line with ESG (Environment, Society, Corporate Governance) values. They know they need to reduce carbon emissions, use more renewable energy sources and be more sustainable in the race to net zero.
The webinar will explore: what can we do as an organisation? And as an industry? How do we reduce our carbon footprint? What should we expect from developers in the context of the new COP26 plans? How can we encourage other players in the market, including our clients, business partners and employees, to join the movement? And most importantly, how will the real estate world change by 2030?
This event is open to SIOR members and anyone with an interest in the commercial property sector, office and industrial & logistics, in Europe. We want many voices, views and opinions so please secure your place now and be part of the conversation
Chair
• Greg Borel, Managing Partner of climate change and sustainability consultancy Ampersand Partners and CUBE
Participants

As COP26 gets underway this weekend, bringing together parties from across the world for a climate summit that aims to ensure we secure global net zero by the middle of the century and keep 1.5 degrees within reach, we here at SIOR Europe want to show our support. We will be sharing guidance about how real estate can make a positive, transformative contribution.
The European Chapter of the Society for Industrial and Office Realtors (SIOR Europe) stands for excellence, best-in-class advice and outstanding results. It represents the top advisors in our industry, who drive multi-million pound/euro deals every day.
In response to the market and clients' increasing ESG requirements, our members have put climate change impact at the heart of their consultancy and embedded it into every stage of the property process. So, we've gathered the very best of their guidance to share with investors, developers, occupiers and the wider industry.

Our Members' View note will have two parts.
The first, being published on 1 November, will remind us of the scale of the challenge we face, the significance of real estate in any solution and show how SIOR Europe's members are responding. It will provide useful, practical advice given by our members that show how they harness carbon neutral and climate positive action to add value.
The second, being published later the same week, will look across our membership, which spans Europe, and gather insight about what is happening across the continent and what we can learn from members in different countries and apply elsewhere.
After COP26, on 23rd November at 18:00 CET, we're bringing together industry leaders for a webinar that will examine the outcomes of the summit and identify what we must do next. Panellists include GLP (a major logistics developer), a leading occupier, the International WELL Building Institute; and climate change and sustainability consultancy Ampersand Partners and CUBE, who will chair the event.
We want you to be part of this important discussion. Register your free place here.
Paul Danks, SIOR FRICS
President of the European Regional Chapter of SIOR
---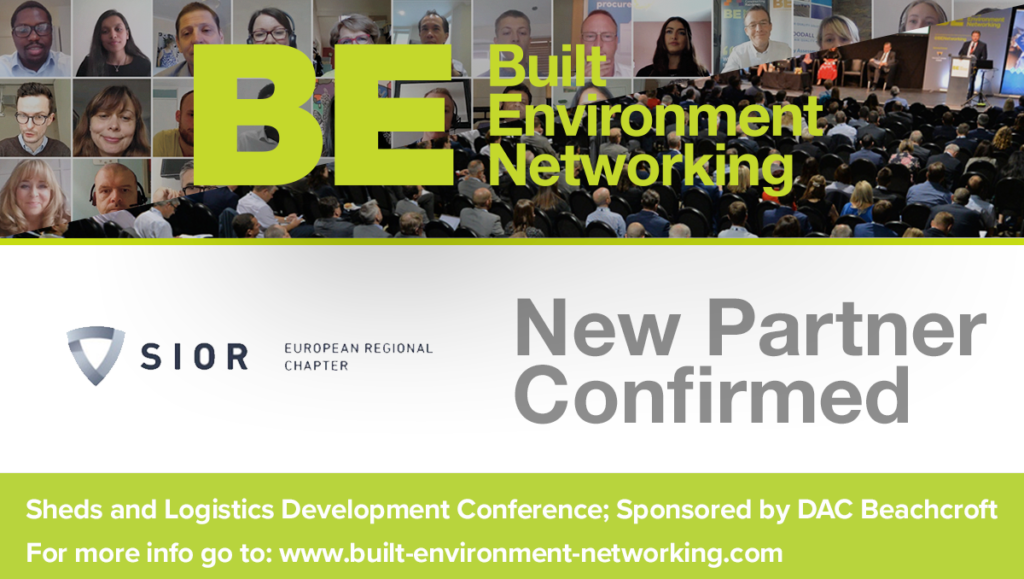 On 5 October 2021, Built Environment Networking brought together the great and the good in the logistics sector to consider how the industry is changing and how best to respond. With a focus on the positive, SIOR Europe was delighted to be a sponsor and support a discussion around the many solutions and opportunities emerging.
The virtual conference covered topics from freeports to climate change and congestion to technology, with speakers from companies ranging from Aberdeen Standard Investments and Europa Capital, to Prologis, St Modwin and Hermes, as well as SIOR's industry partner TSL, a leader in turnkey capital projects.
It also looked at current and future developments, to the value of circa £6 billion, including those breaking new ground in achieving net zero carbon and those that will provide integrated, strategically located hubs across the UK, driving economic growth.
Key trends emerged:
There is a significant increase in the acquisition of land without planning, with developers taking advantage of planning uplift to gain greater returns. This means debt financers in the UK now need to have more understanding of planning policy frameworks, factoring this into projections
Occupiers continue to drive the market, in design, construction and sustainability, so landlords and developers are becoming more and more attentive. While sustainability has gone far beyond embedded carbon to whole life cycle performance considerations, it is still hampered by tight margins and viability issues. There needs to be confidence to invest ethically and a clear link to value and other benefits, beyond the obvious social duty. There's a call for government incentives and bold decisions to come out of COP26 – watch this space.
Planners too are having a significant influence, insisting that occupiers demonstrate how they will be net zero carbon in development as well as in operation. While there is a need in the planning system for a greater understanding of logistics operations and how they work in practice, there is great potential for a highly sustainable, robust logistics sector to support our economy. This will combine carbon emission reduction, renewable energy, embracing electric, using technology, embedding biodiversity net gain and off-setting where needed
As with any evolving industry, there are some areas requiring attention. Infrastructure needs to support sustainability ambitions for emission-free delivery fleets and multi-modal opportunities, particularly around rail and port connections – access to both will come at a premium. We've all reads about the shortage of lorry drivers, which pervades the news in the UK, and is also affecting Europe. In construction, there are also challenges around availability of labour
Our key take out from the conference was a real commitment to driving improvement and best practice on every level. At SIOR Europe, we welcome this with open arms. It is why we exist.
Representing the top advisors in our industry, our members are dealing with multi-million pound/euro deals every day, many in the logistics sector. They have developed solutions to many of the challenges we heard about at the conference, and bring insight from across the UK, Europe and beyond. You can find out more about them and how they can help you here.
---